Salon in the Spotlight: Nail Creations by Hazel, Crawley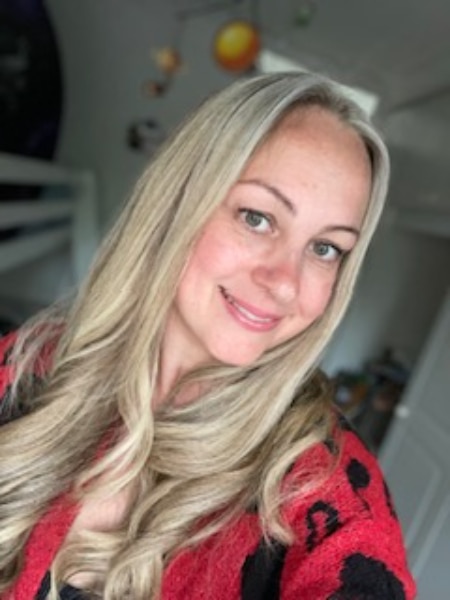 "I always knew I wanted to go into this industry, so went straight on to college after I finished my GCSEs," Hazel remembers. "I originally trained at Crawley college, where I qualified in hairdressing and manicures with a distinction in the summer of 2002. After I qualified, I worked for a few years in a local salon, offering hair treatments and basic manicures."
Hazel took some time out of the industry to have her children, moving into a traditional 9-5 office role. "A few years after I had my second child in 2018, I decided to retrain in nails, enrolling on a manicure and gel polish course with BC Beauty Training. They offered 1-to-1 training, and it was perfect for me to refresh my knowledge and learn the new techniques for gel polish application."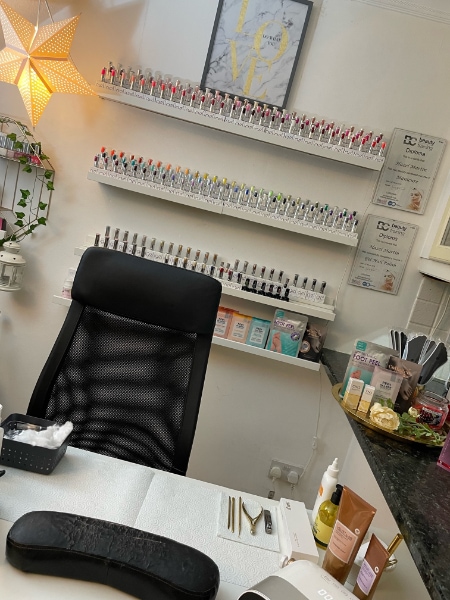 Finishing her training, Hazel worked as a mobile nail tech, travelling to clients' homes to offer a bespoke service. "I always felt quite honoured that people welcomed me into their homes to pamper their hands and feet.
"I didn't drive back then, so I travelled around my local town on the bus or in taxis with my little kit in a beauty trolley. I even had a fold up portable nail table that I carried on my shoulder in a bag," she laughs. "I find it funny now thinking back to that time, and how crazy I must have looked, but I was prepared to put in as many hours and as much effort as I could to build up a good reputation for myself and my business."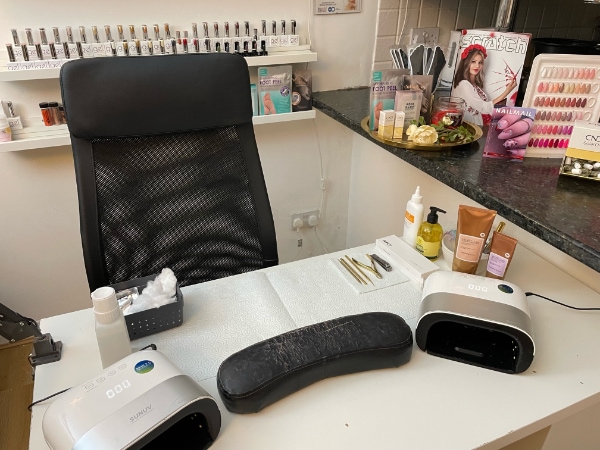 Hazel is now based at her home salon in Crawley, from which she works full time. "As I'm home based, I work by myself, which means I don't have any plans to expand my business as such. I really love to offer a quiet and relaxed, 1-to-1 service to my clients."
"I try to attend as much training as possible, and I'm always practicing new nail art skills," Hazel notes. "I joined the Clawgasmic nail network in 2021, Chan's nail art tutorials have been invaluable to me, and has taught me so much. I also signed up to the Nail Mail box a few months ago too, which I'm really loving. It's giving me a chance to try products I've not used before and gives me the opportunity to learn some amazing tips and tricks from some of the best artists."
"

I'm so passionate about self development, and I love to learn as much as I can to help improve the services that I offer."
Hazel works with gel polish on natural nails only, specialising in freehand painted nail designs. "My clients like to test the boundaries, and I'm always up for a good challenge. Prep is key and all my clients know how particular I am with my cuticle work. I offer builder gel manicures and have helped many clients with weak brittle nails grow their nails healthy and strong, as well as a full range of foot treatments." 
"My most popular treatment would be a builder gel manicure with a French finish. My clients love a clean, crisp, natural French," she reveals. "I also offer what I call a secret manicure – for this, I  use a clear builder gel and a matte top coat. This is a very popular treatment with my clients as lots of them require bare nails for work, and this manicure is perfect for those clients who want to go under the radar with their bosses!"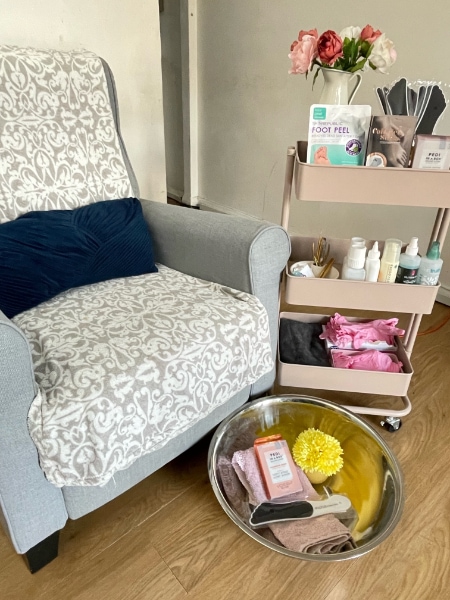 Hazel boasts an impressive gel polish collection, offering over 200 shades. "I use The GelBottle for gel polish and builder gel. I love everything about the brand. I love the consistency and the coverage the gel offers, and the amazing longevity my clients get with the BIAB as their base. Even my clients with the hardest working hands get four weeks wear consistently," Hazel enthuses.
"When I have enquiries from new clients, they mostly say they chose me because I use The GelBottle and builder gel, and that they've heard how well my manicures last!"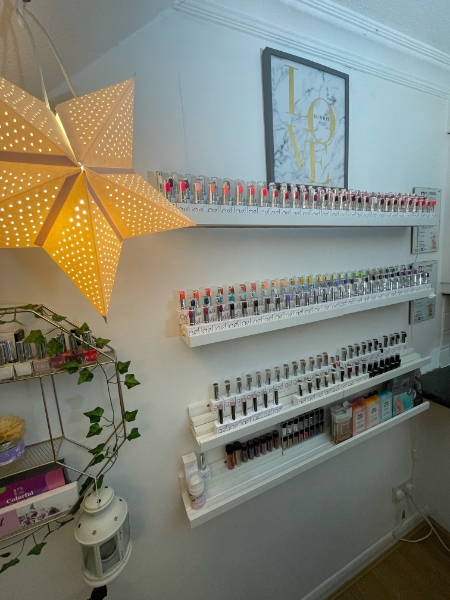 "I love all things sparkly – glitter is my favourite colour," she beams. "My favourite glitter brand has to Magpie Beauty, where I buy all my glitters and chromes. I love the quality, the service and the packaging. I get all of my foils, nail stickers, shapes and flowers from Nail Stamping Queen, which is where I also get my favourite brush – the Striper brush. I couldn't do my job without this brush!"
"I used to do most of my nail art with gel polish, but I've began using gel paint and it's been a game changer, especially for smaller, intricate designs. Brillbird products have become my go-to for this, because the products are so pigmented and easy to work with. Despite this, I do have one all-time favourite product, which the Halo 5D Cat Eye Gel Polishes. It blows my mind every single time I use one, and my clients go back to it time and time again. Every shade is truly stunning."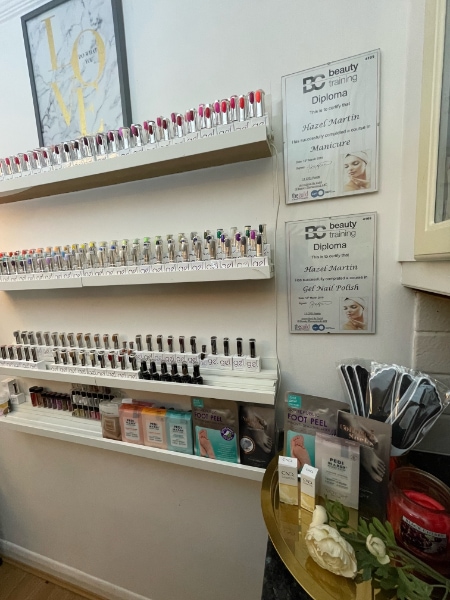 "I love all my clients dearly," Hazel smiles. "Most of them are now what I can call true friends. I have a really diverse group of clients, some of whom have been with me right from day one when I first started out in 2018. They range from late teens right up to over 90 years old!"
"I feel so lucky to have a really lovely group of clients, who are always there to share their love and support to me and my business. I have my regular 3-week clients, and I also have those who can only dip in and out a couple of times a year around holidays and celebrations."
"Every single one of my clients allows me to continue to do a job that I'm so passionate about, and I'm grateful for them all." 
"As soon as a client walks through my door, they become part of my family. I welcome them into my home and it's like sitting with an old friend chatting. We laugh, we cry, we moan, and we celebrate. I truly believe that building a strong personal relationship with my clients is so important.
"It's also important to me that we change peoples perceptions of the beauty industry," she says. "I am really passionate about my job, and I work hard to provide good quality, healthy nail care to my clients in a professional manner."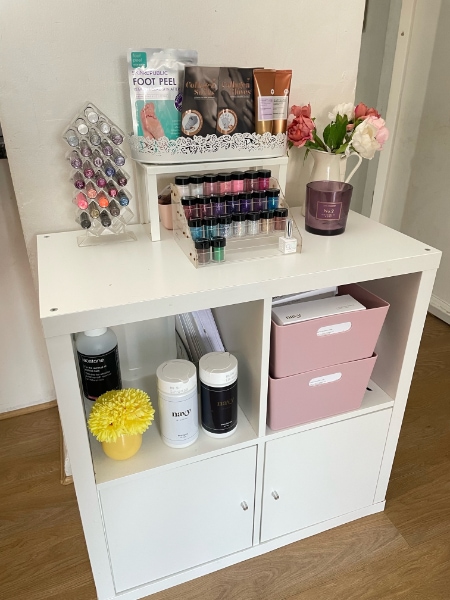 "Because I'm home based, it's really important to me that the service I offer is as professional as it possibly can be, but in a relaxed and friendly environment," Hazel details. "I believe that is what makes my salon unique."
"I have very clear policies and boundaries within my business, which means me and my clients always work together to ensure their appointments run smoothly and this makes such a huge difference to my business."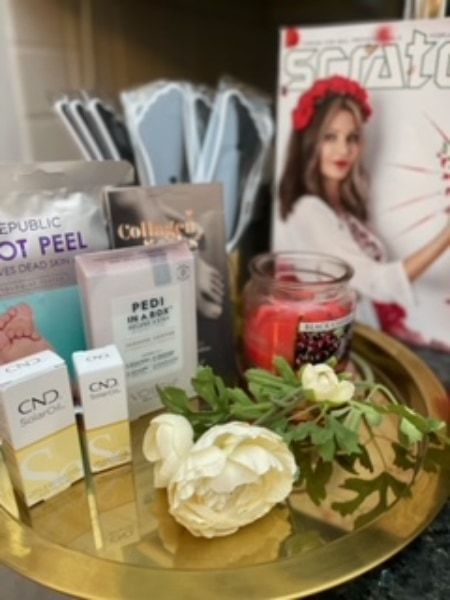 "My décor has always been clean, modern, and neutral, with accents of gold, navy, grey and pink. I have a small space that I work from within my home, so it's important that any dècor choices I make can be integrated into my home," she explains. "I like to keep things fairly minimalist, whilst displaying the best of what I have to offer.
"All my shades are on show and I have a nail art board for clients to look at whilst I am working on their nails. This also really helps strike up some good conversations."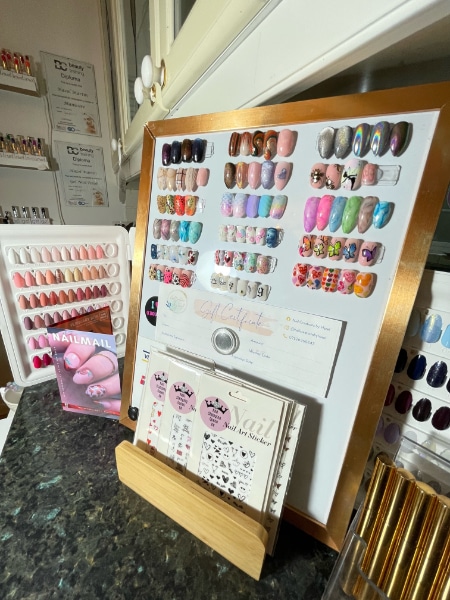 "I love to change up the accessories in my salon space to match the changing seasons. I add florals in the spring; red, pink, and lots of hearts for Valentine's; bunnies and mini eggs for Easter; pumpkins and autumnal leaves for Halloween; and gonks and tinsel for Christmas.
"I love my whole space. There's been a lot of trial and error involved, finding what works and what doesn't," Hazel reflects. "Because my work space is small and so integrated within my home, it makes it a truly unique space for my clients. But it's a space that I can now say I really am proud of."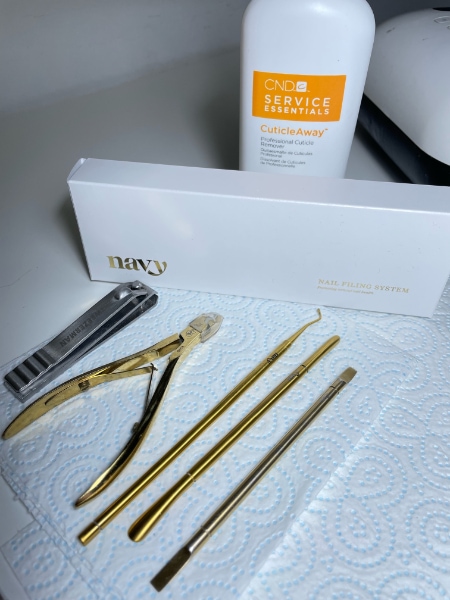 Related Posts