Stacey Solomon hits back after she's criticised for 'impractical' nails with new baby
28 February 2023, 06:55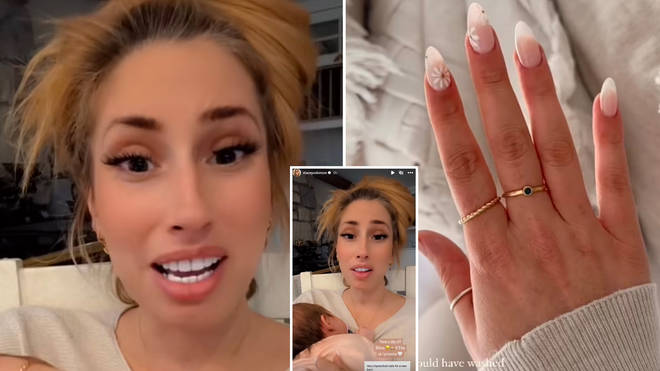 Stacey Solomon has been forced to defend herself after one follower criticised her new manicure.
Stacey Solomon has been living in a new baby bubble after she welcomed daughter Belle two weeks ago with husband Joe Swash.
But now the Loose Women star has been forced to defend herself after she was criticised by a follower.
After deciding to treat herself by getting her nails done, Stacey took to Instagram to show off her long manicure.
Unfortunately, it didn't take long for the negative comments to roll in, with one follower writing: "Very impractical nails for a newborn".
Sharing this message on her Instagram Stories, Stacey said: "Have a day off Wilma. it'll be OK I promise."
She went on to say: "Well I think they're really practical. They're great for tickles and head strokes. Belle is loving them."
Stacey jokingly added: "This one is really good for picking out bogies. Will I end up with poo underneath them everyday?
"Probably, but I've got a nail brush and wash my hands. It'll be fine."
As well as baby Belle, Stacey shares Rose, 16 months, and Rex, two. with Joe, as well as Zachary, 14, and Leighton, 11, with previous partners.
This comes after Stacey shared some adorable photos of her newborn, saying she'd had the 'most special two weeks' as her mum.
Alongside the sweet snaps, she wrote: "🥀 Oh Hello Beautiful Belle 🥀🥹 The most special two weeks of you Belle… 🥲.
"Today all the boys went back to school & Belle had lots of awake time. I think she was wondering where all the noise and craziness had gone 😂 i felt like I got some time to properly see her & talk to her today.
"I love these days when they start to open their eyes more & really look around and begin to show you little bits of who they are and the adventures to come 🥲🥲."
Related Posts