Indonesia's children fashion hypes up with young models – Lifestyle
Sylviana Hamdani (The Jakarta Post)

Jakarta   ●  
Tue, February 21, 2023

2023-02-21
09:36
16
5fceed71997e5776a1634d25dc16a039
1
Lifestyle
Modelling,catwalk,runway,fashion,local-designer,fashion-stylist,fashion-designer,Indonesian-fashion
Free

Indonesian fashion designers aspire to revive the local kids' fashion industry despite its many challenges.
Kids' is one of the least developed sectors of the local fashion industry. While international children's fashion brands flood the market, Indonesian fashion designers have been reluctant to create this niche segment.
"Kids' fashion has a large potential, and yet the local industry is still underdeveloped," Hannie Hananto, chairperson of the Indonesian Fashion Chamber (IFC) Jakarta chapter, said during the press conference in Soehanna Hall in Jakarta on Jan. 12.
To encourage more Indonesian fashion designers to delve into the industry, IFC Jakarta presented the first Jakarta Kids Fashion Trend Show at the Soehanna Hall on Jan. 12.
The event was part of the Jakarta Fashion Trend (JFT), an annual IFC Jakarta Chapter event held at the Soehanna Hall, Jakarta, on Jan. 11-12.
"We rarely see kids' fashion shows in Indonesia," Hannie said. "Therefore, IFC Jakarta has invited Indonesian fashion designers to create kids' collections and showcase them in this event."
"We hope the event will help invigorate the local [kids' fashion] industry," Hannie added.
Cute but complicated
While kids' clothes are adorable, designing them takes a lot of thinking and consideration.
"Designing children's clothes is very different from adults'," Mangesti Rahayu, head of the fashion design study program at the Jakarta Arts Institute (IKJ), said when interviewed after the press conference. "There are a lot of things to consider."
As children's skin is thinner and more sensitive than adults, designers must choose suitable materials for their clothes.
"Natural fabrics are generally nonirritant and feel softer on the skin," Mangesti said.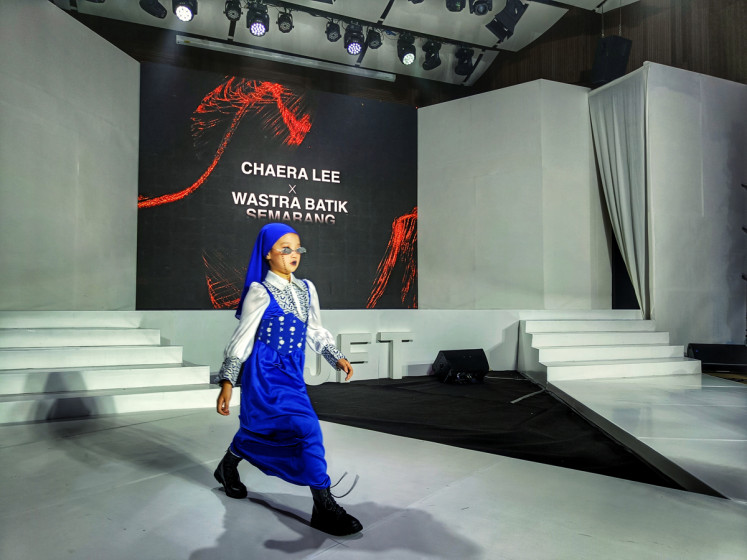 Fun looks: Modest fashion designer Chaera Lee's eclectic style fits her child models' contemporary aesthetic (JP/Sylviana Hamdani) (JP/Sylviana Hamdani)
In the fashion show, IKJ students presented a kids' collection themed The Optimistic Strength, inspired by the Optimus Prime character in the Transformers film series.
All the outfits in the collection are entirely made of cotton.
Any embellishments on kids' clothing should also be considered very carefully, as they should be aesthetic and safe for the children.
"Buttons must be securely sewn to the clothes to prevent them from coming off and being swallowed by the children," Mangesti said.
Although crystals and sequins add sparkle, designers should refrain from applying them on young children's clothes as they may scratch and injure their skin.
Tailored for comfort
"Designing children's clothes is much more difficult than adults'," modest-wear designer Chaera Lee said when interviewed after the fashion show.
The designer has produced made-to-order children's clothes for her customers since last year.
"Besides safety, comfort is also a vital element in kids' clothing," the designer said. "Children are fussier [than adults] and will refuse to wear anything that doesn't feel comfortable."
Chaera Lee presented a kids' collection themed Waterway in the fashion show.
Inspired by the blockbuster movie Avatar: The Way of Water, the collection is made of hand-stamped batik from Semarang, featuring patterns of clouds and rainwater on cotton and silk.
Chaera Lee has also applied soft flat-felled seams on the items in this collection not to scratch the kids' sensitive skin.
Room for improvement
Style-wise, Indonesian kids' fashion also needs a lot of improvements.
"There's a lot that we can explore in terms of kids' fashion styles," fashion designer Erika Ardianto said. "But I'm still seeing a lot of Indonesian parents dressing their little girls in tutu dresses with layers of tulle and lace that are scratchy on the skin."
"Boys' outfits are also often unimaginative," she added.
In the show, Erika presented a children's collection themed Solar System, featuring boys' and girls' two- and three-piece outfits adorned with asymmetrical silhouettes and bold patterns of the planetary system.
These outfits were also embellished with spherical brooches and headpieces in gold and silver by Arra Jewelry.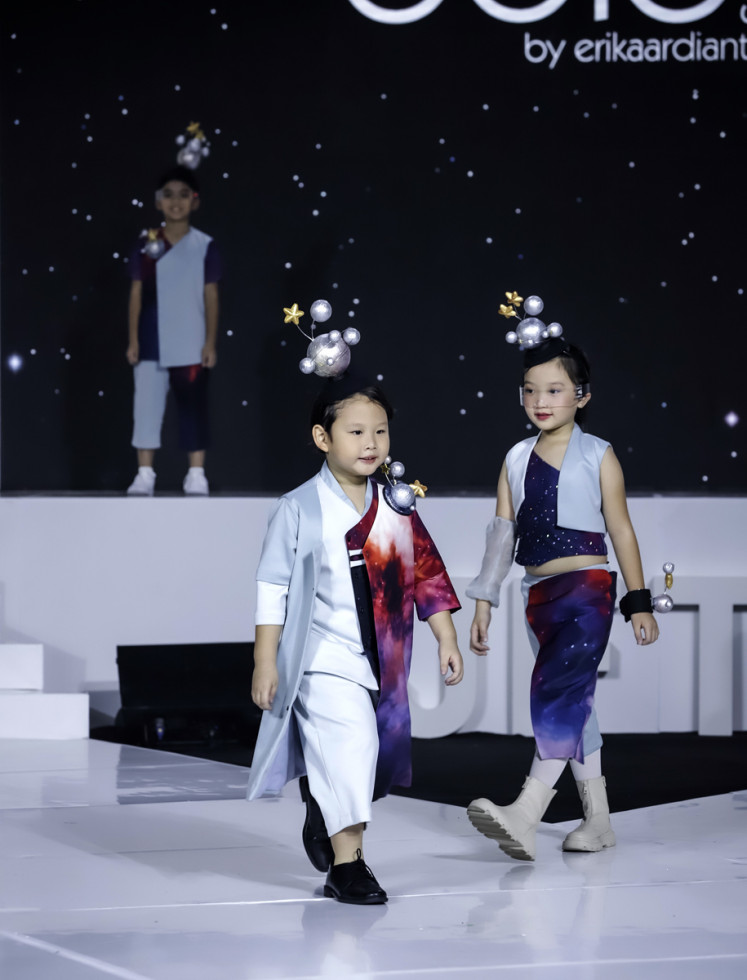 Colorful: Designer Erika Ardianto's Solar System collection presents a playfulness fitting for its young models (JP/Sylviana Hamdani) (JP/Sylviana Hamdani)

 

"The collection expresses many children's dreams of exploring outer space," Erika said.
Even though the designer has been creating made-to-order children's clothes since 2015, she still hesitates to produce them as ready-to-wear.
"Kids' clothes are generally more costly as they're more intricate and take more man-hours to produce," Erika said. "And yet, many parents still think children's clothes shouldn't be pricey as they're smaller in size and use fewer fabrics."
(Not) miniature adults
On the other hand, fashion designer Raegita Zoro is often irked by young children being dressed as adults.
"Children are not miniature adults," Raegita said. "Parents should let kids be kids and allow their innocent, playful side to emerge through their outfits."
In the fashion show, the designer presented a kids' collection themed Innocence, featuring easy-to-wear outfits for boys and girls embellished with bowties, frills and ruffles.
The designer also accessorized some of the looks with a crown, worn as a headpiece around the head, a pair of wings, worn on the back with adjustable straps, a flowing cape and a witch's hat adorned with pink ruffles around the edges.
These accessories are made of linen for the children's safety and comfort.
"I want [children] to feel that they can be whatever they imagine when wearing my collection," the designer said.
It was the first time that Raegita created a children's collection.
"It turned out to be so much fun," she said with a big smile. "I think I'll continue making [children's clothes]."
As a mother of three, the designer understands the enormous challenge of designing children's outfits.
"Children grow fast and will outgrow their clothes very soon," she said. "To make my items last longer, I've designed them with loose-fitted silhouettes and elastic bands around the sleeves and waist."
Baby boom potential
Mangesti, of the IKJ, predicts that the kids' fashion industry will skyrocket in the next couple of years.
"Demands for kids' clothes will explode very soon, as there was a baby boom after [the stay-at-home mandate during] the pandemic," the lecturer said.
IFC Jakarta has also planned to present a bigger Jakarta Kids Fashion Trend Show next year.
"I've talked to [IFC Jakarta] members, and they've all agreed to present another Kids Fashion Trend Show next year and invite more Indonesian children's fashion designers,"  Hannie said.
"We're enthusiastic about reviving the local kids' fashion industry."
Related Posts